Meet Me In St. Louis
So, we made it to
St. Louis
safely. Even a separated tire (yes, our tire practically blew out on the interstate in the middle-of-nowhere Missouri) couldn't hold us back! We're staying at this really
nice hotel
in the middle of downtown, and right across the street from the arch.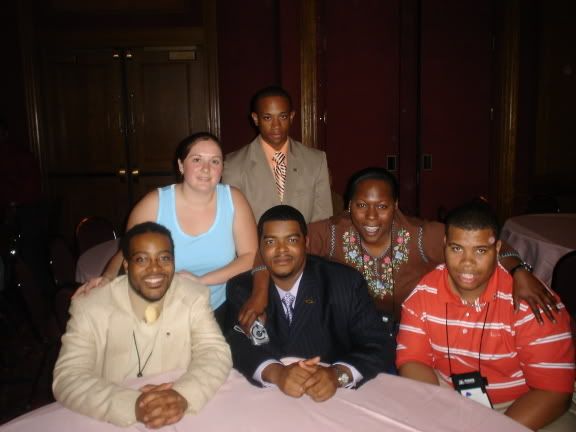 So, here we are (most of us) just before dinner tonight. Isn't that a nice picture?! After this
crazy-boring
speaker (dude took, like 45 minutes!), we walked across the street to:
The
Gateway Arch
! (I took this pic earlier this afternoon.) Isn't that just soooo purty?! Especially with the amazing, clear, blue sky!!
Once we got over there, we got plates of various foods (the ribs were awesome!) and sat around listening to live music (a guy playing some
kick butt
saxophone)!! I think that is one of the Greatest Pleasures of life: enjoying good food with live music!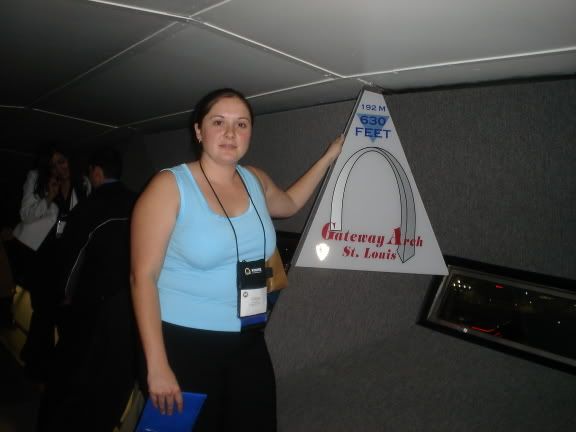 After eating, we went on up to the
Top of the Arch
! See, here I am posing at the top (630 feet)! See that little window at the bottom corner of the sign?
This is the view from that window:
Wow! Just Wow! You can see
Busch Stadium
, where the Cardinals play. And see that lit up building (toward the bottom right), that's the
Old Courthouse
. Our hotel is on the corner of the block at the far right corner of this pic.
My presentation went well today (I'm so happy to be finished), and I got a LOT of great info on
possible job opportunities
. Now the rest of the weekend is all
fun and games
! Really, it just means that I don't have to
impress
anybody! I'm having a great time, and the people here with the MSU group are a really great group!
Well, it's getting late, and I'm getting
very sleepy
...so I'll call it a night.