It's in the Bag
So, over at
PaperNapkin
, I read about the fascination with being curious about what women carry in their purses. And, being the nosy person that I am, I took the bait. Here is my contribution: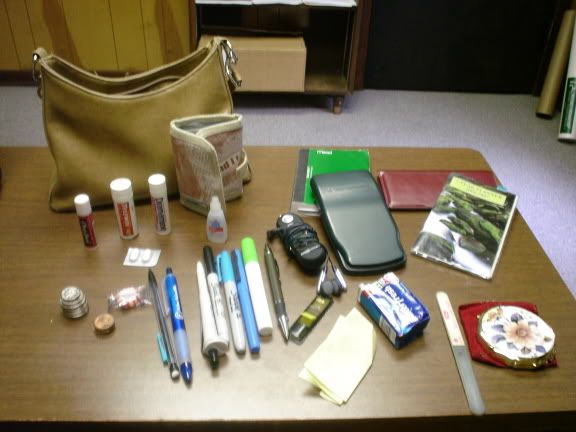 Wallet, Checkbook, 2-Year Planner, Calculator, Fat Little Notebook, mp3 player (w/ headphones & spare battery), Compact Mirror, Nail File, Winterfresh gum, peppermint, $2.61 in change, a receipt, Eye Drops, Post-It tabs, a Random Selection of Writing Utensils (2 pencils, 2 pens, 2 highlighters, & 2 Sharpies), Tylenol (this little container also has
sentimental value
), Dramamine (actually, I think there's Aleve in there), Midol, and
most importantly
, a Spare Tube of Chapstick!
Wow! When I look at it all laid out like that it's a
wonder
how I manage to fit it all in that little purse!
Sometimes I even get excited about getting "older" because it will be "okay" for me to carry a bigger purse! I'd also like to keep my cell phone (usually in my pocket), camera, and snacks in there!