Head West, Young Man! Part 1
Okay, so I've posted random pictures, but I've never talked about it. Why? I don't know, but I think I'm ready to share now.
This summer R and I took our Dream Vacation out west. Ever since I was little, I've dreamed of living in New Mexico, Colorado, or Montana (you know, some place with lots of mountains and snow). Well, I was born in New Mexico, and have visited there countless times, but now my parents live there--and while I love them very much, I just can't picture myself living
so close
to them. I had never been further north than New Mexico until summer 2003. R and I took a day trip up to Durango, CO with my grandparents, but we didn't get to see much (you know how
old people
can be). Actually, I'm kidding, my grandparents are great, we just didn't have time to see many things.
Anyways, over the past few years, R and I have gone to NM to visit my family and he's seen many of their beautiful sights. However, neither of us had been any further north. Yet, we both had this dream that..."when school is over, we want to move to Montana"... All we had were our imaginations and beautiful images from movies (see:
Legends of the Fall
and
A River Runs Through It
). And, no, I didn't have delusions of Brad Pitt and I riding horseback through the woods, or flyfishing on our private river....
So, after the wedding (in Nov.2004) we began to save, save, save. We HAD to see Montana
for ourselves
! Our plan was to drive to NM, spend a few days with family then drive up to MT and see what we could see in a few days. We were shooting for 2 weeks. Then, we had an offer from some of my "other" family to visit them in Wisconsin. Well, we'd never been up there, either, and it was kinda
on the way
, so "Why Not," we figured. That totaled our trip time-line to 3 weeks.
The day before my birthday we arrived in Gulfport, MS to pick up our rental car (come on, I drive an 18 y/o truck, you wouldn't expect us to drive
that
) and drop of the "kids." We had reserved a "compact" car (due to the pricing), but all they had were "midsize." Hey, I wasn't complaining (more room = more stuff). The following night, we began our trip. MS, LA, and TX are
THE WORST
states to drive through. MS & LA aren't really
bad
, it's just the anxiety of knowing that
eventually
you're going to be in TX & that
is bad
! Yeah, 12 hours from one end to the other & not much in between!
19 hours later, we got to NM. We stayed for 5 days and did the "family thing" (which included Memorial Day weekend camping, a hail storm, and a few local day-trips). Yeah, try setting up camp (tents & all) in the HAIL! In May!
Dad told us that he had been "scoping out" some local sites and wanted to take us while we were there.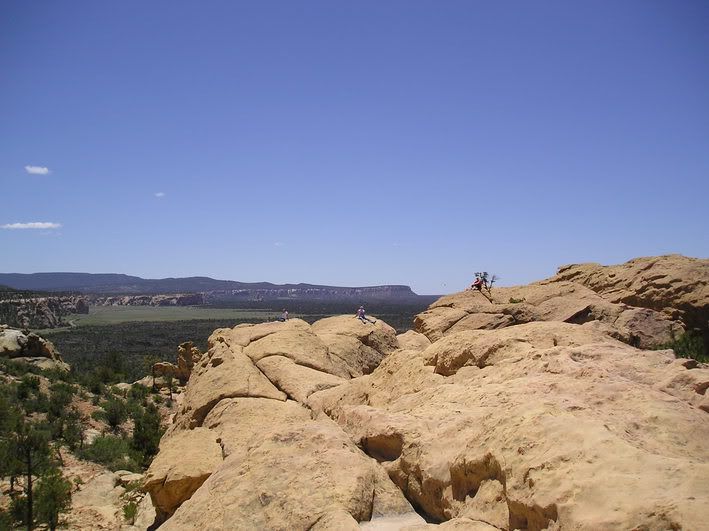 One was "
El Malpais
" (The Badlands). This is located about an hour west of Abq (I refuse to spell that word). It is an ancient lava bed and sandstone formations. When we
finally
got there, it was AMAZING!! The light-colored rocks are sandstone, and all the "dark stuff" in the background are the lava flows. If you look closely, you can see 3 people sitting out on the rocks. Those are my 2 sisters & family friend. Behind them is about a 150-200 foot drop. Yes, my dad let us "play" on the cliffs!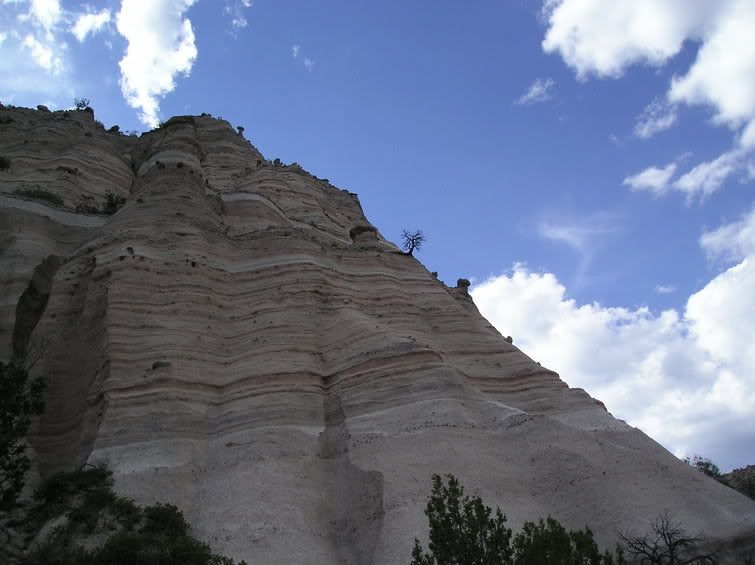 The other place we went is called
Kasha-Katuwe Tent Rocks
. Check out the website, they have many more pics than I do. In this pic you can kind of see the rock "ball" balancing on the sand "pillar." There were bigger ones, but I liked the way the clouds and sky frame this shot.
....Stay tuned for Part 2, when we travel through Colorado....