Head West, Young Man! Part 2
Okay, for starters, I want to cry right now! I just about finished this whole "Colorado" post then the thing
froze up
and lost
everything
!!! Let's try this again...
So, in the weeks and months leading up to this trip, we had done a lot of planning. (And, when I say
we
what I mean is
me
.) I had looked up sites of interest along our route, printed out countless sheets of information, and in the end, we decided to go "without a plan." What we would do is drive to the first rest area with "information," stop and pick up pamphlets, and talk to the attendant. (
Some plan
, right?!) We would each choose one place/thing that we wanted to see/go/do. That seemed fair.
We left NM, bright and early that morning and began our drive north on I-25. I know, interstate driving isn't as "fun," but we wanted to get to Montana,
eventually
! Well, I-25 runs on the east side of all the mountain ranges, so the
whole time
we had the pleasurable scenery of rolling plains, thousands of antelope (it seemed like
millions
), and old telegraph wires? All we could do to amuse ourselves was make up "old west" stories.
"Okay, I'm an outlaw and I just robbed a bank, and I'm running from the law! Know where I'd hide my booty? Out here in the middle of nowhere! But, I'd bury it near some landmarks that I'd remember, like that little railroad bridge by the telegraph lines!"

After hours of pointless conversation, we finally arrived in
Pueblo, Colorado
. We stopped at the visitor's center and chose our two attractions.
I chose The
Royal Gorge Bridge
. (Really, check out their website!) I found out that, at 1053 feet, this is the highest suspension bridge in the world!! We walked across it and were shocked to realize that the whole thing
SWAYS
in the wind!! I'm talking a good 4 or 5 inches in each direction! And some people still drive across it! And, the part you walk/drive on is made of wood planks! With gaps (as big as 2 inches)!! You can look between the boards, down, down, 1053 feet into the Arkansas River! It's crazy when you first get on, you don't notice the sway, but the closer you get to the middle, you start to feel it. Then your mind tries to convince your body that it's not really moving. R said I was imagining things when I told him that I was getting dizzy from the rocking! With the ticket you also get to ride the tram. Yes, that's a cable stretched across the canyon with a little (bathroom-sized) car hanging from it. Oh, and like 30 people crammed in! Somehow, I managed to squeeze off this picture from there. A bit of a downer, but you also get to ride the incline train. That's a cable and pulley system that takes you down the cliff at a 60 degree angle to the River's edge. Down there you see people on a real train, in kayaks, and floating by on rafts.
We didn't expect to stay here long, but the park offers a lot of stuff, and we walked around for half the day! Oh, they have a sort-of wildlife zoo, too. There were elk and buffalo (and some other less interesting animals). We *had* a nice picture of R posing with a buffalo. And, when I tried to pose with it, (they were behind fences, of course) it charged at me and I screamed and jumped out of the way just in time! My perfect timing, too, was that there was a car full of people driving by at that exact time! They were all laughing and the dad leaned out the window and said "Hey! That was great! I got it all on tape!" Sure, R thought it was hilarious!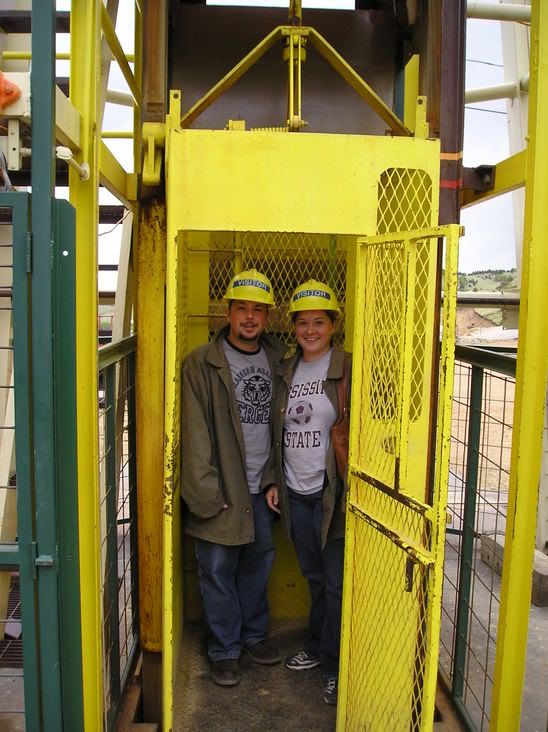 Finally, we left the Royal Gorge, and headed to R's pick: the
Mollie Kathleen Gold Mine
in Cripple Creek, Colorado. This cute little town is historic and fun, complete with taverns and casinos. But, we weren't there for those. We were there for the
GOLD
! Up the hill from town (y'all should've seen us trying to find this place) was an operating gold mine! They can, but don't actually mine the gold anymore (economically not worth it). Fortunately, we got there just in time for the last tour, and even better, we were the only 2 in our group! So, we got our own
private tour of a real gold mine
!
We got these jackets and helmets and loaded up in the elevator/cab/thingy with our tour guide. And he took us, down, down, down, 1000 feet down, to the bottom of the mine! Our guide demonstrated different equipment, we rode on a "transporter" (air compressed train carts), and got samples of real gold ore! Shhh! Don't tell anyone, but he even let R try one of the drills!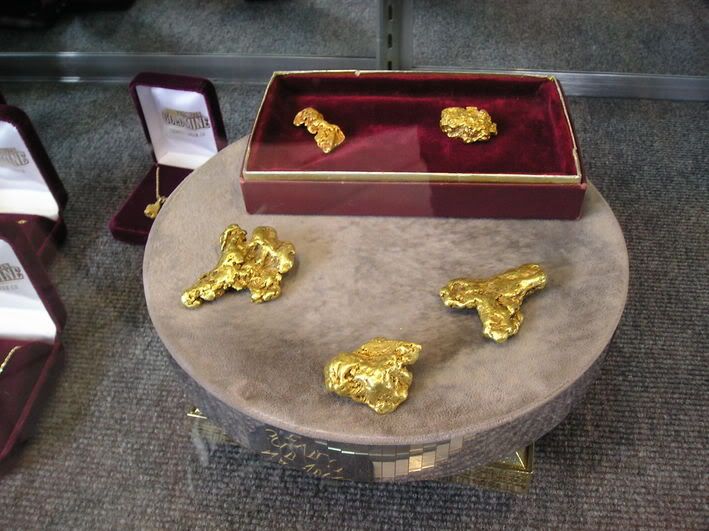 Afterwards, we walked around the gift shop and saw
THESE
! Of course, these aren't
mined
gold nuggets, these are called placer gold. They were found as deposits in a river. Could you
imagine
?! The two "smaller" ones (in the back) are worth about $50,000 each! And, what guy isn't fascinated with gold?!
...coming soon, Part 3, stay tuned...