Here comes the Bride, da da da dum...
Well, I should've posted this yesterday, and left Guapo for today, but anyways. This past Sunday was my One Year Anniversary! Really! So, now I'd like to tell you a little about my Dear Husband, R...
We probably first met during band camp, the summer of 1996. He was a 9th grade prop-tech and I was a 10th grade guard girl. At our high school, the
9th grade
is
it's own thing
(completely separate from the
high school
), so he was just there to help out with the props for our band show. Anyways, I don't particularly
remember
meeting him, we just later figured out that he was
there
. When he got to 10th grade he was dating this
other girl
(whom everyone thought was
crazy
). He played sax in the band, and I was a
guard
girl, so we knew
of
each other. During winterguard season of my senior year (his junior) we
flirted
a little, but didn't
date
. Then, one trip...the longest one of the season (
Jacksonville, FL
)...the one where we actually had a
chartered bus
...I only had
one thought
on my mind:
I'm a senior, and I want my OWN seat!
Well, the guys were last to load, and lo and behold, he didn't have a seat. So, being the
nice girl
that I am, I let him sit with me. I pestered him the whole ride, too. We talked about cars, music, movies, band, plans for the future...for the
entire 10-hour ride
! I guess it's like they say...
and the rest is history
. A few weeks later, we had our first kiss on another bus ride--just as we were going through the
Mobile Tunnel
. Our first date soon followed, we went to see Forces of Nature (yeah, I know, a movie about a wedding). We went to many more movies, dinner dates,
goofy golf
(although Fun Time is no longer there), walks on the beach, etc, etc. Sadly, he didn't go to my Senior Prom with me, but we did go
bowling
afterwards. The following August, I left for Mississippi State (4 hours away).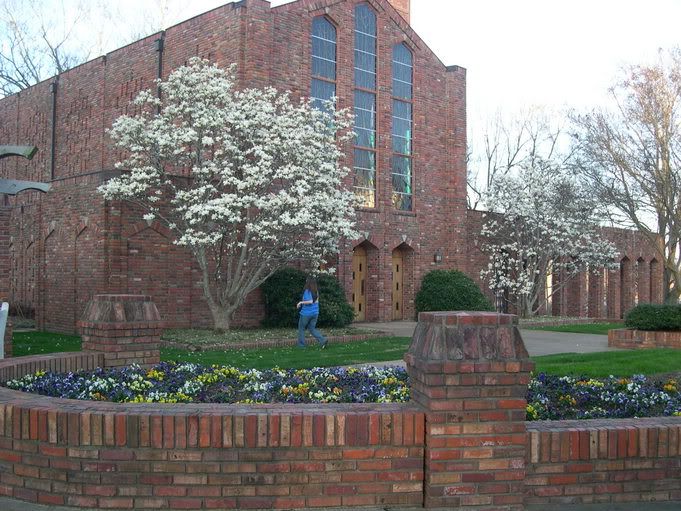 Somehow we managed to
stay together
(mostly) and the following August, he joined me at State. Years past, then, in December 2003, he finally
popped the question
. There was no
big fanfare
as I had always (jokingly) suggested. Instead, he fixed a quiet dinner at home, got down on one knee, described his
love
for me, and gave me
the ring
. And, being the
everthoughtful
man that he is, he had already
talked to my parents
! So, after
five and a half years
of dating, we were married at the beautiful
Chapel of Memories
.