Head West, Young Man! Part 6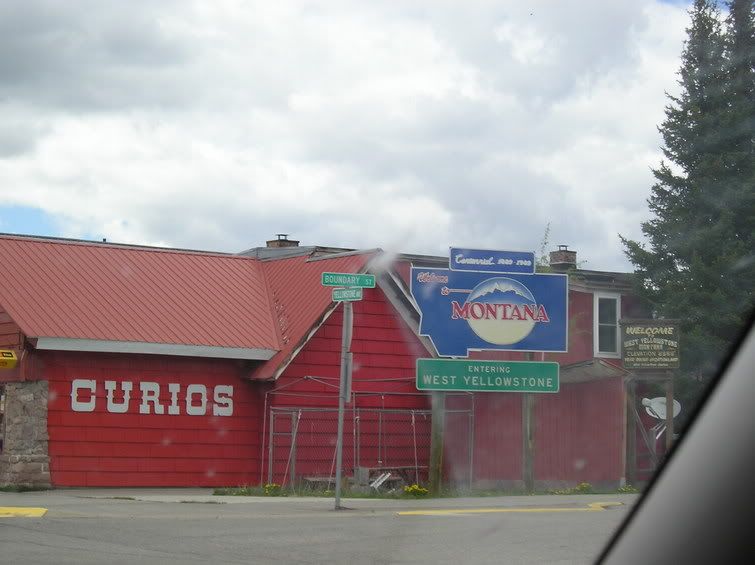 Eventually, we did find our way out of the "gold rush", and we decided to head for Bozeman. Once there, we'd find a place to eat and a place to camp. We did both successfully, and were very, very happy to set up camp at a
KOA
right next door to the
Bozeman Hot Springs
. YES! Another hot spring! But, this was even better: admission was WAY cheap and the pools (yes that is plural) were indoors (and clean)! Altogether, I think there were 9 pools—at varying degrees of HOTNESS. The hottest one, at the center, spilled into the next, and so on (4 total), until it reached the large swimming pool (which was lukewarm, tepid, at best). One pool was outside, but it was too doggone hot for me. Then there were 2 warmish pools under an atrium (these were my favorite). And, strangest of all, there was one that was freezing (I really expected to see ice cubes floating around)! This place even had 2 saunas (I'm not a big fan). One was "Rainforest" and it felt like being back in Mississippi in the middle of August (WAY HOT and WAY HUMID) and the other was "Sahara" which was so HOT and DRY that it seemed to suck the moisture and breath right out of you! I couldn't even get past the door of either—just opening the door made me lightheaded, dizzy, and disoriented. R LOVED the "Rainforest," while I was perfectly happy soaking in the warmish pool and people-watching. I don't know how they did it, but some really old men would go in the sauna for like 15 minutes, then come out and quickly jump in the ice-cold pool! I thought they were nuts! I couldn't even stand to put one foot in that cold water (it was like soaking in a cooler of melting ice)!
Ah, I'm getting warm and relaxed just thinking about this place! Can you tell that we really enjoyed ourselves? We stayed there until late (almost 10pm), and were so relaxed and pruney that we didn't even need showers—we just hopped right into bed!
The next morning, we reluctantly packed up camp and headed towards
Livingston
(
Please God, let me live there one day!
) for lunch. Ha Ha, R even ate a buffalo burger! Our planned route would take us straight south through the so-called "Paradise Valley" and to the north entrance of Yellowstone (see, I told you we'd be back). The drive down was long, but very, very beautiful! We saw signs for Chico Hot Springs (we can never get enough) on the way and though maybe we'd treat ourselves on our way back up. But, mainly we were headed down to see more of Yellowstone. We saw the
Mammoth Hot Springs
, Boiling River, Norris Geyser basin, and hundreds of buffalo! The buffalo were crazy! They would just walk down the side of the road, then oh just decide to cross right in front of a car! We saw the Obsidian Cliff and the "Devil's Slide."
The entire day was amazing! Somehow, we had managed to cram a lot of Yellowstone into two (partial) days. And, the drive from Livingston south on Hwy 89...oh, just breathtaking! It truly is a Paradise Valley!
...please stay tuned...part 7...coming up next...