Waxing Philosophy
First of all, I want to give a small disclaimer. I am
still sick
(will finally get to the doctor tomorrow). So, I will try to make this post make sense, but if it starts to ramble or veer in some strange direction, please, just stick in there. It has a point (and a good one at that).
As I have become older (and wiser?) and started my own family (albeit a small one, currently), I have realized many things about that term
family
. In light of the New Year, I'd like to discuss my resolutions, or rather, my revelations, and how they will affect the
me
of 2006.
Often I find myself commenting and criticizing people and their actions. I was raised to be polite, however, so I usually keep my negative thoughts to myself. But, over the past year I have realized that I am becoming a more negative and pessimistic person. Maybe I'm not
such a joy
to be around. Hmmm, what a concept. Since I was young, I've always been told that I can be
bossy
and
moody
, but I never
judged
others. So, when and why did this begin? I don't know. Maybe I should ask my mom--she would give me the truth (too much truth, sometimes). Well, what this leads to is me having negative feelings towards people who have done things that I don't agree with. They make seemingly negative decisions, I'm too polite to
speak my mind
, and I end up keeping it all
inside
.
That's also why I've made comments about not wanting to
offend
certain family members on this blog--since it was developed in part for them--but now I'm going to just
do it
. Y'all, please don't get upset with me. I just need to get a few thoughts out of my head and off my chest.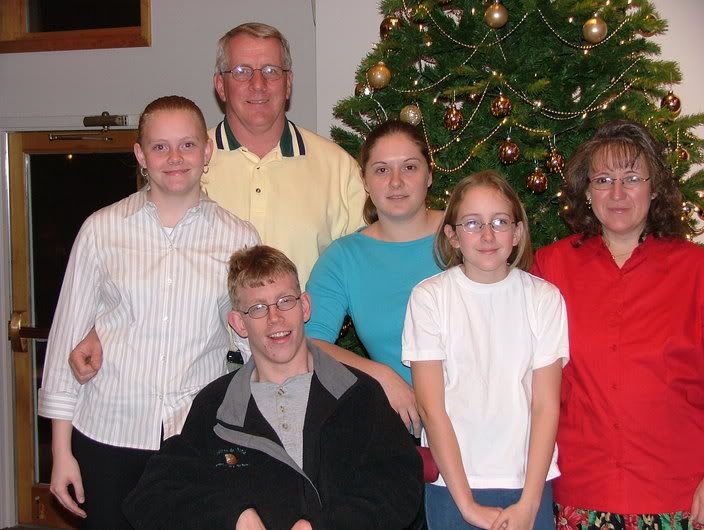 To be fair, let's start with my family. I have a "mixed family." My mom had me when she was 20 and raised me alone until I was 9. Then she married my dad (okay, step-dad, technically). When I was 11 she had my sister (yes, half-sister, technically). Then when I was 16, my step-brother and step-sister (15 and 11) came to live with us. I remember being very unhappy (maybe disappointed) when my life started changing. Had to share mom with dad, had to share them with sister, had to share room with "baby" sister because "they" were moving in, etc. But then, magically, it happened. TOGETHER we were a COMPLETE family. And, I wouldn't trade my life with them for
anything
. I love my family very much and I respect each member for all of their strengths and all of their weaknesses. And, I
absolutely love
being the
big sister
!
Okay, enough with
butterflies
and
rainbows
, we have our problems, too. When someone in my family does something that I don't agree with, I tell them. They'll listen, or not. I just want to know that I let them know how
I
feel. That way, when I make decisions to include/exclude them from certain aspects of my life, they'll know why. I know that no matter what they decide, I'll still love them and care about them, but I have to make my decisions based on what's best for me. Get it?
Well, now we're getting to the
sticky
part. My in-laws (da da dum). Altogether, they're wonderful, caring people. R loves each of them very much, and through him, I have learned to accept their strengths and weaknesses and love each of them myself. And, I hold them to the same standards as my own family. But, see, they're
different
. R doesn't feel the same obligation to tell them how he feels, well, not all of them. I'll just say it. He doesn't
talk
to his sister. She's 4 years younger than him, and they had a tough childhood. He left home at 18 to go to college, and only returns home to
visit
. This is the part I need to get out of my heart and off my chest. I love his sister a lot (like one of my own sisters), but I feel like I'm not
allowed
(or supposed) to. Over the past several years, she has made a lot of personal decisions that seem to contradict the kind of life she had always talked about wanting (and the kind of life anyone would want/expect for a loved one). And, R feels like he can't/shouldn't talk to her about them. I've asked if he would mind if
I did, but he doesn't like that, either. I think he tries to protect her (but from what?). He says that she's "old enough" to make her own decisions, yet I'm left wondering why she's not "old enough" to hear the truth (his views and opinions). So, this is my inner conflict. I love this woman as my sister, and I disagree with some of her decisions, and (perhaps) I have some input/advice/suggestions that (might) help her, but I
can't
(am not
allowed
) talk to her.
On Christmas Day, we (R, his sister, and I) finally had the opportunity to
talk
. Now ask, "how'd it go?" Well, a lot of issues came up that we had no idea were weighing on her heart and mind, and we were able to share
some
of our thoughts on the
current situation
. Did we accomplish anything? I don't know. But, at least now she has
some idea
of how how we feel.
I guess the thing we all realized (and this is where I'd appreciate y'all's input, advice, opinion, experience) was that it doesn't matter how much
love
,
life history
(shared childhood), or
honest concern
you have for a person (even your own sister): Children grow up, we start our own families, and we choose our own
Individual Life Path
.
All R and I can do is pray for her to find her own happiness. And, we have to move on and carry on with our lives. It's just sad. To think that the
One Person In The World
who knows your childhood, your history, and has the potential to be a part of your Whole Life--doesn't.