My Girls
So, I've talked a
lot
about these
Special
Little
Ones
. Now I present to you...my furkids (that term is credited to
Mon
)...La Reina and Nabi...
Yes, Reina is
that
BIG. Last time we weighed her, she was just at 20 pounds.
Reina is a 4.5 year old domestic long hair cat. We adopted her from an
old cat lady
in a neighboring town. She can be very sweet and loving (
when she wants something
) but is usually moody and standoffish.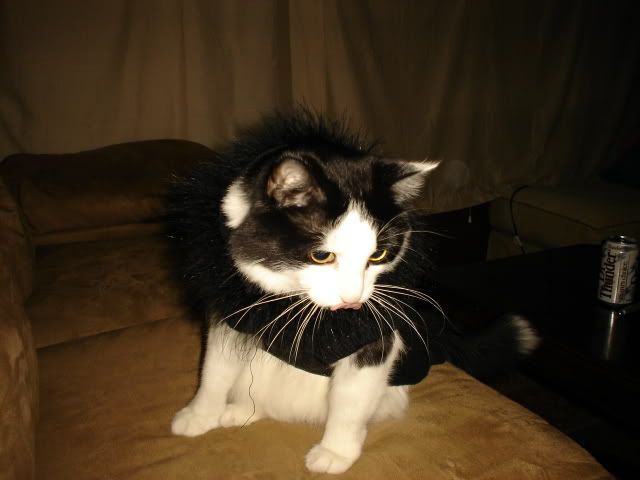 I retook this picture like 10 times, and this is the best I could do. She's just not very
posable
. Yes, her tongue is sticking out (it was like that in half of the pictures, while the other half didn't have her face at all). And, yes, she is wearing a "dress." It's like a little knitted evening gown with feathers around the neck--very
in
this fall.
And here's my
little angel
, Nabi, relaxing on my lap. She's wearing her Team Jersey and looking absolutely adorable. She always wants to be
in my lap
when I'm watching TV. She just hops right up, stretches out, and falls sound asleep. Obviously, she's
not
camera shy!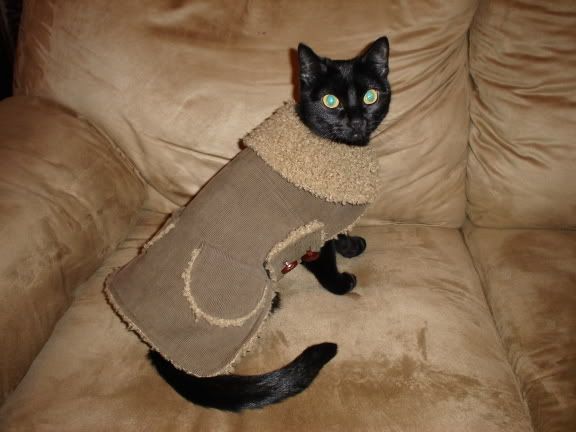 Here she is
posing
in her winter coat. She's so small (7 pounds at last weigh in) that I'm always worried she's going to
freeze
on cold nights.
Nabi is a 3 year old domestic short hair cat. She was the runt of the litter, and was the only one to survive. I think it was due to her cat-mom being very, very young. Her cat-mom was a feral cat who chose my MIL to take care of her (but
hated
me). When we realized that Reina had more
mothering instincts
for this kitten than her own mother, we
had to
have her!