Blast From the Past
This was taken in June 1999. I was assitant troop leader for my sister's girl scout troop, and this was a trip we took to the Audubon Zoo in New Orleans. R is great with kids and he joined us. In fact, I think the girls enjoyed his company more than mine (he's just a big kid at heart). We look so young and skinny in this picture (please excuse the poor quality and butts in the background). I just wanted to share this to compare to our more recent pictures. This is probably the oldest picture I have of us together (we had been dating about 3 months).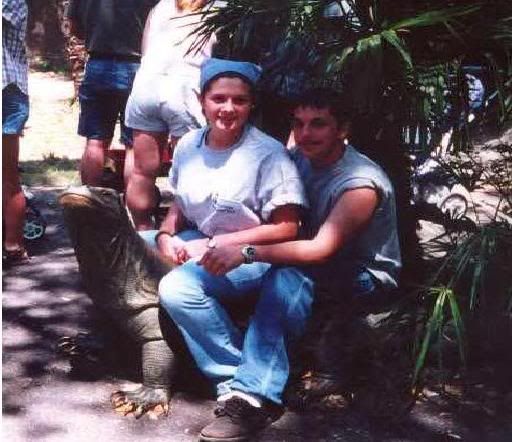 This picture was taken November 2002, on Pensacola Beach, FL. It was one of our various trips to Florida, and YES, it was cold.

I've talked about my "furkids," but I don't think I've ever mentioned this little guy. This is Birdy (I know, real original). R got him for me for my Birthday last year, he is now 1 1/2 years old, and as ornery as can be. He's very territorial (and slightly aggressive). he makes the cutest sounds, likes to sit on our heads, and plays "Catch Me If You Can" with the cats. Oh, and he likes posing for pictures.