Head West, Young Man! Part 10
Okay, technically, this should be called "Headed Back East" or something. But, it's the Conclusion to my series, so I figured it should have the same title.
Anyways, here goes: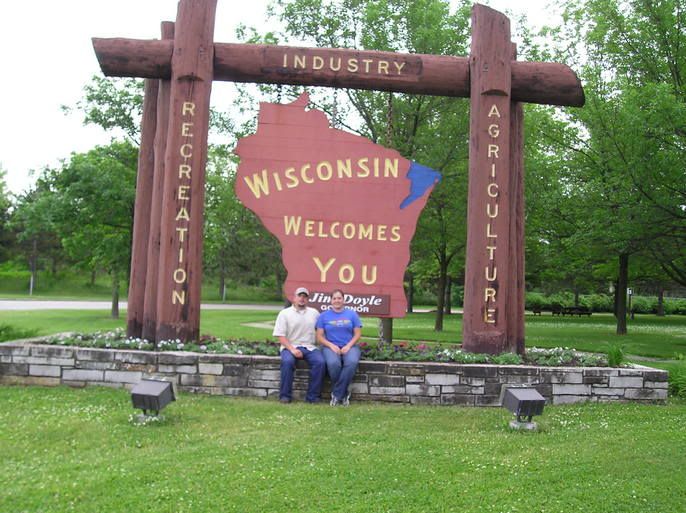 We finally made our way back across the Mississippi River and into the beautiful state of Wisconsin. There we were to meet DE (my "biological dad") at his sister's (Laura) house. I had only met her once, when I was a baby, so of course I don't remember. She lives
way out in the country
(and I thought Mississippi was
country
) with her husband, Rob & their 2 kids, Chris & April (18 & 16). I guess "technically" they're my aunt & uncle, but it's weird--I didn't grow up calling them that--so to just meet them & call them "aunt" & "uncle"...sounded weird.
Well, they are all really nice people! I was a little nervous (and I'm sure R was, too) about committing to staying at their house & etc for a few days, but I was very pleasantly surprised. It's kind of cute, too, because they are all from within an hour of where they currently live. Even Rob's mother, brother, & etc all live nearby! We also had the chance to meet my "uncle" Wade and his wife Jennifer & their 2 kids, Miranda & Matthew (17 & 13, I think).
Okay, now, what did we do in "cheese country USA" aka Wisconsin? We went to a stock car race (Wade races a "hornet" car), a real-live auction (complete with fast-talking auctioneer--we even bought a few things!), and Lock #6 on the Mississippi River (that's way up there when the water is still relatively clean). R went fishing with DE and my cousin (they were laughing at him because he was nervous about getting in the water--but hey, down here we have moccasins & snapping turtles!), we had a family barbecue (with the fish the guys had caught, but none for me), and we visited Rob's brother's "Hunting Cabin." And, R even got to try out his new "toys" from my mom--the Colt .45 and custom Derringer (powder gun)!
We had a wonderful time and hope that we'll make it up there to visit them all again! Of course, we also shared and Open Invitation for them to come visit us Anytime!
Our trip home went smooth and safe. We made excellent time, and even managed to sqeeze out a few more good pictures. Altogether, this was a Vacation in every sense of the word. We had the most amazing time, and couldn't imagine any part being any better than it was (except to have more time or money)!
Finally, I want to thank y'all for reading and commenting on our story. I've really enjoyed hearing what y'all had to say about various parts of the trip (and I read a lot of them to R, too). I hope you enjoyed reading it as much as I enjoyed writing it! Thank You So Much!
Now, I can continue with "It's Just Me" regular programming!