Nearly a Week Gone By
Sorry I've been slacking this past week, but I've been up to a lot lately. And, today is no different, but I really wanted to take a moment to post about my weekend. Friday I drove down to the coast to spend the weekend with my best friend, AJ.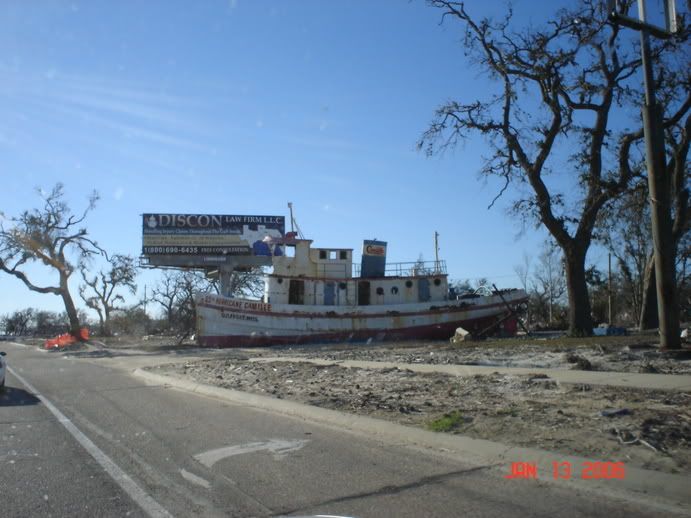 I arrived in Gulfport earlier than I had expected, so I took the "scenic route" along Hwy 90.
Not so scenic these days.
That night, we had dinner with several of her friends (they were very nice company). Saturday, AJ & I went to Mobile for massages (How's this: $25 for 1 hour!), a nice lunch, and shopping (mostly window shopping for me). Afterwards, we had dinner in Ocean Springs (Can you believe this: practically all of the restaurants here close between 6 and 8 pm! Even on Saturday!) followed by drinks back at her house.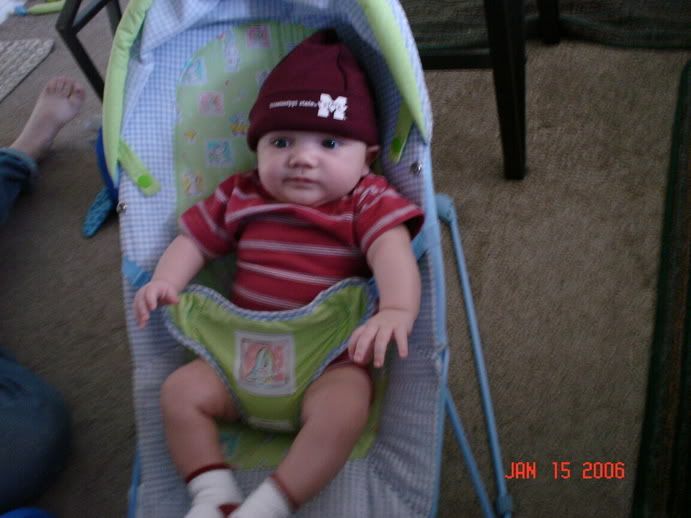 Sunday, I went by my in-laws to see the family. AJ wanted to meet me for lunch before I left town, so we went to this Awesome Chinese Buffet. We sat around talking for a long time, and before we knew it, it had gotten late in the afternoon. I called R and "asked" if I could stay another night (you married folks know what
big babies
our guys can be). Of course he said it would be fine and he hoped I was having
lots of fun
. We went back to AJ's parent's house and hung out for a little while (her mom & dad are the
most adorable
people!), then went to see The Chronicles of Narnia: The Lion, The Witch, and The Wardrobe (I had already seen it and loved it, but they hadn't, and all the other movies were either too late or too early). It was just as
wonderful
the second time, too. Sunday night was a little more relaxing. AJ & I just sat around and talked about
everything under the moon
(like only best friends can). Monday I packed up and headed back home--racing a terrible storm/cold front that would be whipping through the state by evening.
I really had a wonderful time this weekend and only wish R could have gone with me (well, sort of).
Well, this weekend brought up a subject that gets a little touchy between me & R. He asks why I
need time away
from HIM. His mom tells him to leave me alone & let me enjoy my weekend with my friends. AJ says that he gets me
forever
and she only gets to see me once every couple of months. AJ's mom says that even after nearly 30 years of marriage, she still needs
little breaks
from her husband. And, here's the kicker: My mom says that she
can't understand
why I WANT to "get away." She says that she "never" needs
time away
from dad--and it's
not right
for me to "leave" R like that!
Oh, and let me say this, too. I don't have many friends (I've always felt that girlfriends are just too
catty
and I've had many, many just come & go), and AJ is really my only
girlfriend
who I talk to about personal and everyday things. We talk on the phone maybe once every other week (or more, if either of us is having
serious issues
), and we get together on weekends once every couple of months (usually alternate who goes where).
So, I know y'all have opinions on this. Please, share them! I'd really like to know what
other people
think about this. Do y'all ever feel like sometimes you need to just
get away
(not just from hubby/boyfriend, but also your town, house, chores, work/school, etc)? And, do you ever
just go
?