Birthday Party
Last Monday was R's 26th birthday, and we had
that party
the Saturday before. I've had so much other stuff going on, that I just never got around to putting up the pictures. There are a lot of good ones, but they're all of people you don't know, and probably wouldn't be interested in seeing... so... here are 2 that I like.
We had a pretty good turnout--around 20 people (that's
awesome
for hermits like us)--and everyone had a fun time. We had
exactly
the right amount of food (nobody went hungry AND we weren't left with tons of leftovers) and all our friends got along (it's always interesting to see how friends from different "social circles" will interact--mom says it's a demonstration of
our character
that our friends will find things in common and have fun with each other).
I surprised R with a cake (complete with the appropriate number of candles) and we all sang "Happy Birthday" to him! Nobody minded the melted wax that was all over the cake (it takes a
little while
to light
26 candles
, you know) and they all thought the little army men were a "cute idea" (although I have used the idea on a previous birthday cake--about 4 years ago)!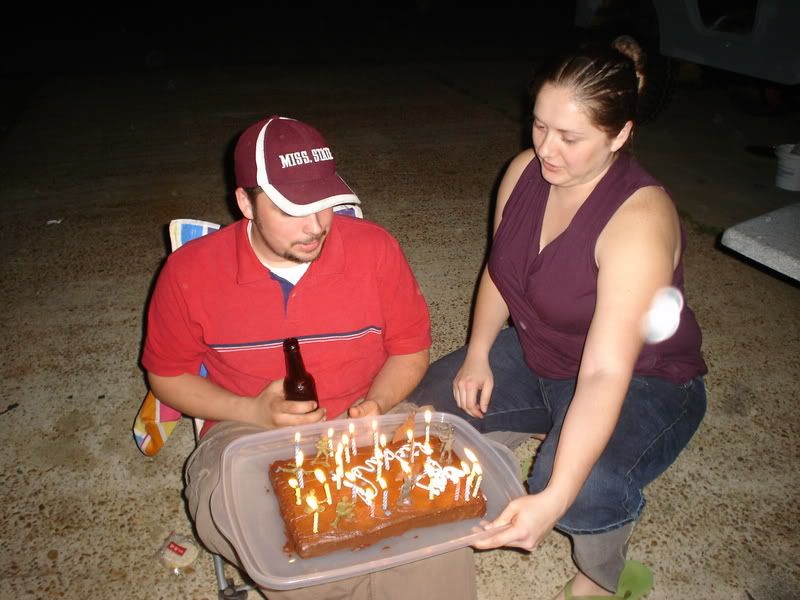 The next day, R discovered the bag of extra army men (tanks, barbed-wire fences, and flags included) and set up his own personal "battle" on the coffee table!
Who says we have to forget kid-fun when we "grow up?"