The Bridal Shower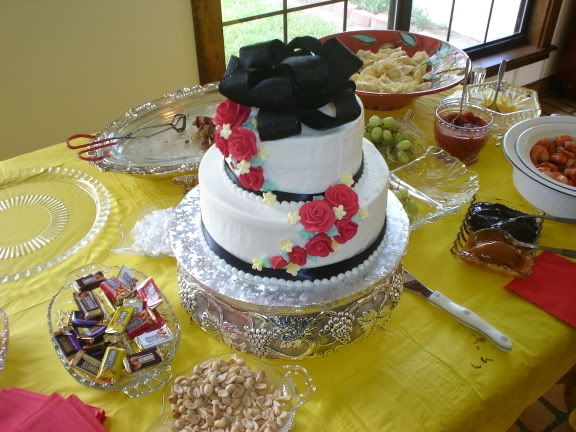 Last weekend, I returned to the coast for an old friend's bridal shower. It was a nice experience, but I'd like to start by telling you a little about the Guest of Honor, Jessica.
We met in 9th grade (when I moved to Gulfport) through mutual friends and shared classes. However, it wasn't until 10th grade, when we both joined the High School Colorguard (band), that we got to be friends. At first all the "rookies" hung out together, but we quickly separated into our pairs and cliques (you remember how that high school drama was). Jess and I were the definition of B.F.F.! We planned class schedules together, passed notes, had sleepovers, gossipped about everybody else, and shared many intimate stories. Throughout high school, she was the best friend a girl could ask for. We trusted each other and never betrayed that trust (a hard thing to do when there's so much drama). Of course, we had our little arguments, and did some things with our "other" (non-mutual) friends, but for those 3 years, it was Celina and Jessica, BFF! Oh, I guess I should mention that she also has a twin sister.
Then, we started college. We both came to MSU, and lived 3 doors down from each other. We were both members of the Air Force ROTC (although she had gotten their full scholarship), Honor's Society, and intermural soccer team. Slowly things changed. She started meeting more people in different social circles (read: sorority/fraternity), attending real college parties, and moving away from our friendship. That freshman year we realized (or at least I realized) how different we were/are. Sophomore year, she and her sister joined a sorority, became more involved in the AFROTC, and we practically lost touch.
The last time I saw Jessica was about 4 years ago when she stayed at our house for the weekend (yes, it was sort of out of the blue, but whatever). Last time I heard from her was nearly 2 years ago, when she called (left a voicemail message) offering "Congratulations" for mine and R's upcoming wedding.
Since "losing touch," she's completed college (bachelor's), joined the Air Force (Ms Lieutenant), moved to California, then Montana (I know, what are the chances), and met her very own Mr. Perfect.
Seeing her (and her sister) again after so long brought me to the reality of my Developing Maturity. I now realize that my hurt feelings of losing such a wonderful friendship were justified, but not necessary. More than that, I realize how thankful I am that I had such a wonderful friend for those years. Someone I could count on. A best friend I could talk to, trust, and yes, love.
Also, I realize why her sister and I were not exactly friends. We're very much alike. She's also an amazing woman, and I can now appreciate her strong, opinonated, and sometimes judgemental personality (cuz hey, that's just like me).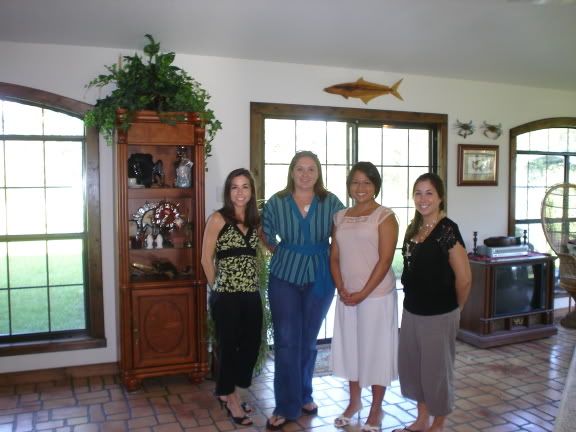 Finally, being around the two of them for those few hours made me all the more grateful for My Very Own Best Friend, AJ. In the picture are left to right: Jessica, me, AJ, and Jennifer.
Let me add one more thing... I could say a few more things about the whole Bridal Shower experience, but I'm trying to keep this thing very positive... so I won't... :) I will just say that I didn't appreciate the little side comment about not wanting "a cake
from Walmart
." Okay, so your
bridal shower
cake probably cost more than my
wedding cake
(from
Walmart
), but I didn't hear anyone complaining! Yep, I can definitely see clearly why we're not close friends...