Weekend Activity
This was actually a few weekends ago, but as I haven't taken any more recent pictures of the Jeep, these will have to do. Here is R
taking stuff apart
so we can pull the transmission. That's right. He wasn't content to take out just the transfer case, he
just had to
see what condition the tranny is in.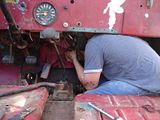 When he gets on a roll with automotive stuff, I pretty much turn into his "Tool Chick." Which means I have to stay within hearing distance so I can find and bring the tools he needs. "1/2 inch socket!" "Adjustable wrench!" "Sledgehammer!"
In between all that yelling, I managed to take a few pictures. Look how cute his little legs are--poking out from under the jeep!
In an unrelated note, I wanted to share this pic. I know it's blurry, but that's probably good, as I don't exactly have all these guys' permission to post their pic. This is a group pic we took at the last Forest Products Society meeting. Yes, I am the only woman in the pic, and yes they are all
big country-type guys
! Really, I wasn't the
only woman
there, because our Organization Sponsor is a woman (my boss, no less). But, it is still kind of weird "hanging out" with all those guys.