Bulldog Bash
Last weekend, R and I attended the
Bulldog Bash
, held in the "cotton district" of downtown Starkville. This is a campus and city-wide event that is held every every fall. This year was the 7th year.
This hill is on our way walking to the
activities
, at the top of the hill (right) is a cemetary. Okay, so
the story
behind this hill is that last spring at another
free activity
(Down in the District), R had a
little too much
to drink and ended up yakking all over it!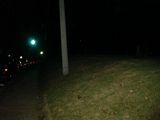 Anyways, the Bulldog Bash included 3 stages with different bands (Christian rock, alternative, country) on each. You walk around this "city block" size area and listen to the bands: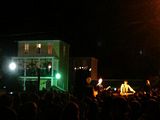 Watch drunk people on the mechanical bull:
And try desperately to
not get lost
in the crowd!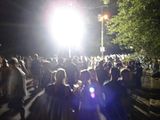 Altogether, a good time. The headliner for the evening was Sister Hazel, and I was actually really excited to hear them. They didn't start until 11:00, though, and R
made me leave
at 10:50. Let's just say that the
festivities
had
gotten to
me, and I needed to get to bed...