The River Wild
We were given a quick lesson in paddle moves (forwards, back, body shifts, draws, etc) and began our journey down the river. AJ and I rode in front with R and JE behind us. That's Drew, our trusty leader in the back. A few hundred feet down river, we approached the first Major Rapid (Seven Foot Falls). And, yes, that was a SEVEN FOOT DROP
off a rock
in a rubber blow-up boat! Um, yeah, WHAT were we thinki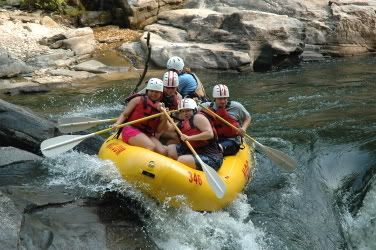 ng?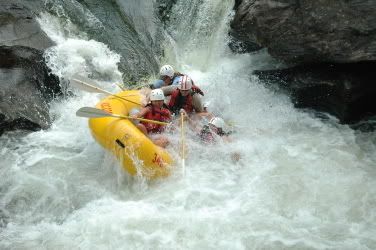 So, the first drop didn't go as well as we had expected. See bodies flopping everywhere? Yep, that's us!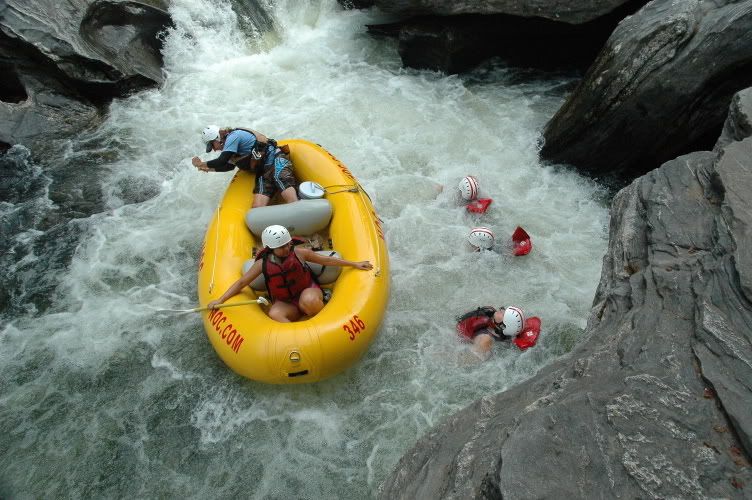 And, yes, that's AJ still in the boat! WHAT?! Falling in the water was pretty scary, but being shoved around by the current and pounded into the rocks--that felt
dangerous
! AJ followed all our "training" and reached her paddle to me and quickly pulled me back in! We both grabbed R, then JE and got them in, too! Great Teamwork Guys!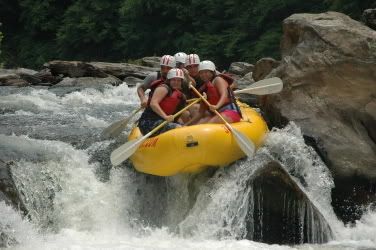 The next Big One was Raven Chute. We mixed things up by switching sides of the raft. Maybe not such a smart move?
That's right. Again, I was the first under the water! There go JE and R right behind me. And, AJ, losing her balance.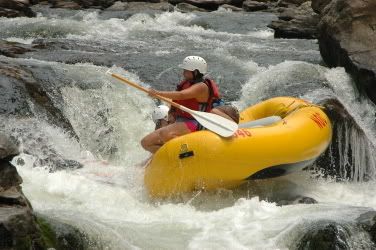 There's no way that girl can hang on to the bucking raft! It's going to flip!
But somehow, she stays in! See our heads bobbing around in the water? Okay, Hello! Pull us in, please!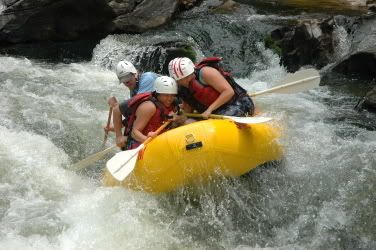 Obviously, AJ is doing something right. Maybe it's the velcro on her butt? Or perhaps it's her "magical" pink shoes. Either way, I'm with HER! (Notice my death grip on her life vest? If I'm going in, she's coming with!) Amazingly, we all stayed in!
Next time around, we ALL grabbed AJ (Notice my grip on the front and JE's grip on her shoulder.)
Harnessing the power of the Pink Shoes, we didn't even fall out on This One!
Out of the 7 rafts in our convoy, we were the only group to fall out twice! Even JH, MH, & FB only fell out once! Of course, our Guide seemed to be a bit of a Risk-Taker and had us squeezing through some passages that none of the other rafts went through. And, we were the first raft through most of the rapids/falls.
Overall, I would Highly Recommend this rafting trip to anyone who
a)
is a strong swimmer and
b)
is Very Very Comfortable in the Water!
Throughout our trek down the river, we stopped several times for other stuff (see previous post about PotHole and Long Creek waterfall). There were also 2 jumping rocks. These were rock ledges 10-20 feet above the water where you could jump (not dive) into deep pools. We also stopped for a picnic-style lunch on a small stretch of beach.
Along the way, our Guide mentioned points of interest. This was the river filmed in the movie Deliverance (1972, Burt Reynolds, Jon Voight, Ned Beatty, et al), so he pointed out "Deliverance Rock" and the site of the "love scene" (among others). So, we watched this movie last night, and "Eww!" Boy, am I glad we decided NOT to rent it the night before we went out! It wasn't really scary, though, just
disturbing
, and I probably would've been
so much
more nervous about breaking an arm or leg! Too bad our "Bluegrass Jam" didn't include the Dueling Banjos!!
What an amazing experience! I can't imagine why I've never gone rafting before now!? Maybe it has something to do with my mom being nervous around the water? Well, this is definitely something I will do AGAIN!