More Vacation
I attempted to post this yesterday so I could talk about something different today, but Blogger, my computer, and the internet in general all ganged up on me and said "No Way, Jose!" So, today you get to see more pics from New Mexico.
Este es el Santuario de Chimayo (This is the Shrine of Chimayo). It's an adorable adobe mission chapel where many testimonies of healing powers have taken place. We arrived 15 minutes too late to go inside, so I wasn't able to take any pictures of the Miraculous Crucifix. But, I have been in before, and it's very old and awe-inspiring. And, there's a small room in the back where a saint is said to have appeared. The walls are lined with abandoned crutches, wheelchairs, and letters of healing from many people who have visited.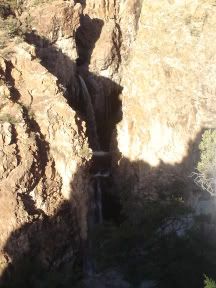 This is Nambe Falls. I had never been up there before, but it was
on the way
back from Chimayo, so we decided to take the scenic drive. Little did we know that we would have to climb a 1/4 mile
very steep
and crumbly
path to see it. We just kept telling ourselves that
it's just around the bend
in order to make it.
The falls were nice, but we only stayed long enough to take this beautiful picture with the sun setting behind us.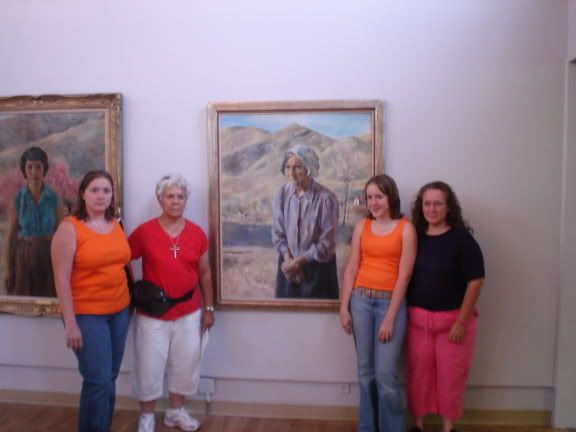 Here we (me, gramma, little sister R, and mom) are at the Roswell Art Museum. See the painting? Turns out that is my gramma's great-gramma! Please excuse the weird look on my face, I must have been annoyed that my sister & I looked like
twins
!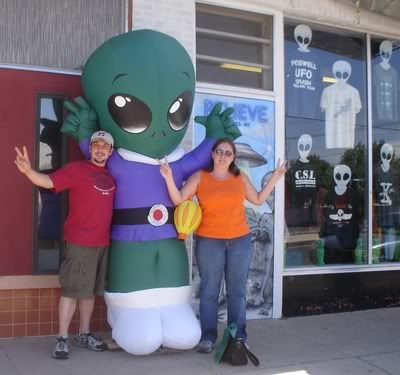 And, finally, who can visit Roswell without taking a picture with a
real
ALIEN
? I know, this one wasn't
really
real, but he sure was cute! By this time, we had just eaten at a side-of-the-road Mexican diner, and could only think about the
very long drive
backhome,
hoping and praying
that we didn't get an upset stomach (surprisingly, we didn't)!