It's All About Him
So, I'm starting out my vacation review with pictures of R only. Since I was the official picture-taker for the first half of our trip, I was not in a lot of them. But, R is a good-looking guy (
at least in my opinon
), so you'll have to endure his
absolute cuteness
for this first set of pics.
The trip went really well, and we were able to see so many areas of the state (took my mil to all our "favorite" places). We even made it out to one place I had never been: Roswell. But, that's for later.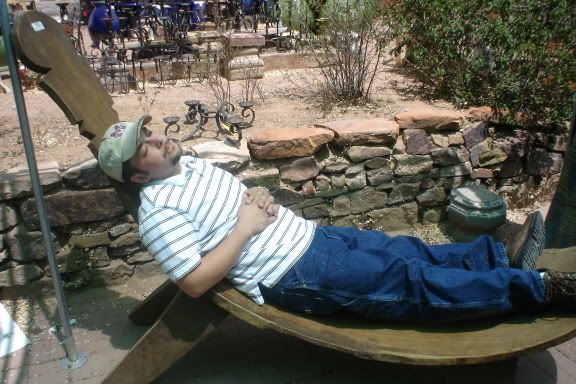 This was at the Jackalope store in Santa Fe. This is a "lounge chair" carved from a single piece of wood. Isn't that just awesome? Oh, and the price tag (in case you were interested in getting one): $2500. R!! Get out of that chair! (You better not break it!)
Okay, so I decided to put in one picture with me. But, this was just too cute to resist. This was on Canyon Road in Santa Fe. It's just a long narrow road lined with artist galleries and a few eateries. I'm sure the intention was not for us to
sit on the artwork
but this bear sculpture was just just made to be sat on!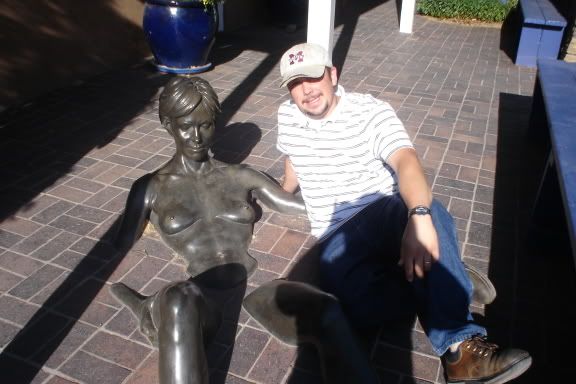 Further down Canyon Road was this "sculpture." I know, I messed up the shadow thing, but I had to show you, because
really
WHO would put this in their house/yard?
This was a funny little character that I was able to convince R to mimic. But, PLEASE, don't tell him that I put this pic up here! And
trust me
, there is
no resemblance
between the two!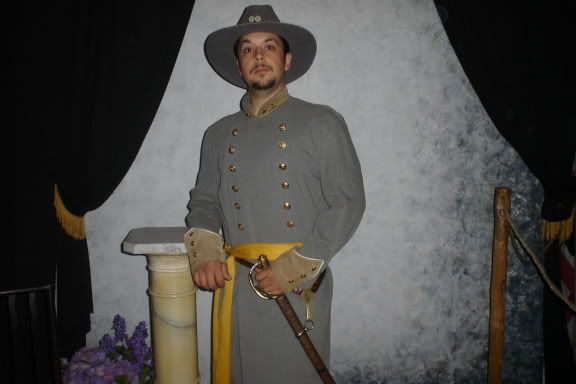 We finally took one of those "Old West" pictures at this museum we like to go to in Madrid, NM. But, I'm not going to put up the picture with me & mil in it, you'll just have to be content with my
adorable little soldier
!
"Oh, I wish I was in the land of cotton! Old times there are not forgotten! Look away, look away, look away Dixie Land!"