In Recovery
Another long weekend gone by. And here I am, it's nearly Wednesday, and I'm still trying to recover from the stress/drama/aches of the conference! For starters, carsickness is one of my biggest "weaknesses" and the 8 hour drive back was
killer
! At least we didn't have
another blowout
! Add that to the early-morning lectures each day, the steady 4-course meals, and the partying I did Saturday night, and you have the making for a
Very.Long.Weekend
!
Never thought this would happen: me complaining about Free Meals! But, after countless baskets of bread and glasses of water and tea, 3 salads, 3 entrees, 3 desserts, 1 buffet, 1 sack lunch, and 3 continental breakfasts, I am
STUFFED
! (Maybe that explains the upset stomach I've had since Sunday, too?)
But, you know, nothing makes you feel more comfortable in your own home (& bed) than spending several days
out of it
!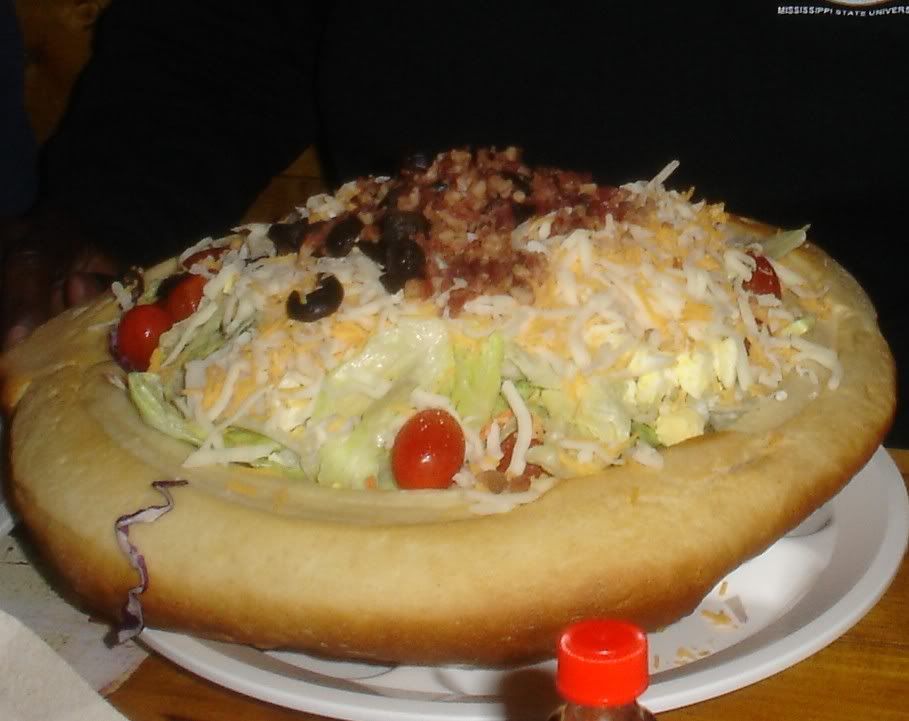 Pic descriptions:
1. Me "partying." (But,
really
, that's just punch in my glass. Note my shiny eyes and
very red
cheeks.)
2. The formal setting at nearly every lunch and dinner. But, boy, the salads were
awesome
! (And, no two were the same. Note: This must have been before our
etiquette lunch
where I learned that you
do not
leave the sugar packs on the table and my coffee cup should be
turned down
if I do not want coffee.)
3. Some of our group at the stand-up tables at our dinner under the arch. This was a buffet of ribs (YUM), pasta, hotdogs (HUH?), and nachos.
4. The biggest salad I've ever seen in My Life! This was at a restaurant in Missouri (on the way up) where the logo is "Home of the Throwed Rolls!" I got the ribs (Double YUM), but someone else got this salad. We ALL could've eaten off of it and been full! It must've weighed nearly 10 pounds (reallly)! And, all that in a
Bowl made of Bread
!!
The honey and I are going to see Ice Age 2 tonight...hopefully there aren't too many
little kids
and
highschool kids
down there!