Celina, Interior Design
A few days ago my little sister, Ruthie, asked for my help (input, advice, ideas) for redecorating her room. She says that she's interested in a "retro, black & white" theme. So, I put on my thinking cap and googled every variation of her request that I could think of... and I came up with a few alternate ideas.
Before I get into those, let me tell you that R has been ragging me for my
interest
in doing this. I think it's partly because he's "jealous" that I'm focused on something besides him. He also keeps commenting on how "silly" it is for me to be
"trying to be a designer"
just because I see it on tv. Whatever!
Okay, out of these samples, only 1 is actually "black & white," but I think the others could be "altered" to a more "black & white" theme.
#1. First, is the pink and brown (very "retro," no?). I think this is adorable, but I would probably prefer a blue, green, or
even orange
with the brown. And, of course she wouldn't have the special built furniture or wall hanging thingys.
#2. Here is the only actual black & white room I found. In this room 2 of the walls are grey pinstripe wallpaper and the other 2 are the black with white stripes. I think the stripe idea is nice, but not so much the wallpaper. Personally, I think the black & white (& gray) would make me feel kinda depressed...
#3. This is a very simple "retro" look. I think the brown and turquoise is much better than black. I really like the way it looks much
cleaner
than the 1st brown room.
#4. This is a more kid-like "70s retro" design. Again, all colors
except for
black. And, the special-made headboard would probably not go over so well with mom & dad.
#5. This room is a little more "bubblegum" than I think Ruthie wants, but I really like the barcode stripe design. I think she could do this on white walls with black, gray, and maybe 2 or 3 other colors (lime green, purple, orange).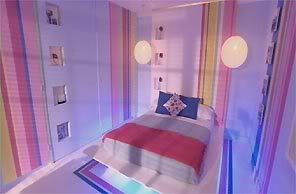 What do you think of these ideas? Do you have any suggestions? I told her that I need a few things from her: What furniture does she have, how big are the walls, is she going to put the doors back on the closet.
Well, this is just something silly that I'm working on, and I hope I'll be there soon to help her actually DO IT!