What's This? Snow in Mississippi?
Does it really snow in Mississippi? Well, let's see...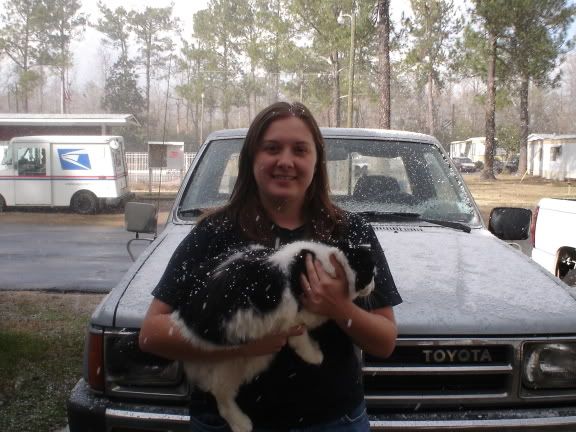 Yes, that's me in front of my house this past Saturday. And, no that isn't dandruff, ashfall, or glare on the camera. That's snow. Real-life "White Stuff" sent down from the heavens.
Now, don't get me wrong, I've been in the snow before. In fact, I LOVE the snow. But, in the nearly 15 years I've lived in Mississippi, I've only seen it snow here twice. Once, when I was in 10th grade, we had
one inch
accumulate, and school let out early. And, once, my freshman year at State, I went home for the weekend and missed out on
all the fun
. Up here, it had snowed about 6 inches, and everyone had a Field Day! By the time I came back on Sunday, all that was left were a bunch of mud puddles, and a HUGE ice/snowball in the middle of the drill field (I think it was about 4 feet in diameter when they first "rolled" it)!
So, you'd think we could still act like rational adults when it snows, but NO. See what we did? Torture the cats! Here's Reina freezing her paws off on the cold metal of my truck. Unfortunately, there wasn't enough "White Stuff" to last. Within an hour, nearly all of it had melted. So Sad :(