Sunrises, Airplane, and a Best Friend
So, I'm home again. And, slowly trying to catch up and get things
back to normal
. Yeah, good luck with that, I have 2 homework assignments due, a makeup quiz, and an exam on Monday! Nevermind all the things that fell behind in the lab (at work).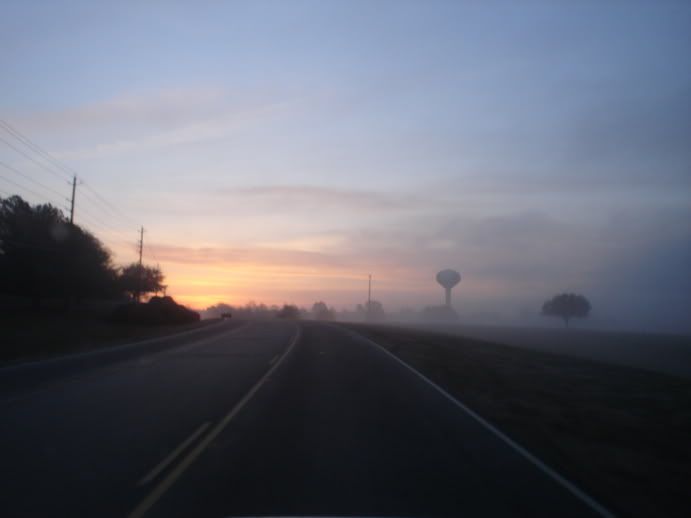 Well, true to my form, I have a few photots to share. This was my view at 6:00 Friday morning, as I was leaving Starkville. It was really foggy, and I can't remember the last time I was
awake
to
watch a sunrise
. I had to drive 4 hours down to Gulfport, to catch my plane at 12:00. And, up until 11:00 the night before, I still thought I'd be able to ride down with R.
This was around 8:00, Saturday morning. My sisters decided to join me for my morning walk/run, and this was the view we shared. Those are the Sandia Mountains (east of Albuquerque, NM).
Friday night I gave the eulogy for Grampa after the rosary (they are Catholic). I felt so honored to be the one to get up and tell a little about him. Saturday, we mostly hung out around my parent's house and Gramma's house. We had a lot of out-of-town family members visiting, and it was really nice to see everyone (even under the circumstances). Sunday, we picked up my brother and went to Gramma's house again (she had lots of food). Then, the funeral Mass (another rosary), and the burial were Monday morning. That afternoon we had the "reception" at Gramma's and I took lots of pictures, ate tons of
awsome Mexican food
, and talked to a lot of "aunts," "uncles," and "cousins" (I put those in "" because if you can't remember somebody's name, you just ask for "auntie" or "uncle")!
I flew out Tuesday morning, and arrived back in Gulfport around 3:00. I took this pic on the plane. I couldn't help but laugh at the attempt to separate "First Class" from "Coach." I mean
come on
! If I really wanted to sit in "First Class," do they really think the mesh curtains and velvet rope would keep me out? Or maybe those are just to keep our "Low Class" germs from entering their "Upper Class" realm?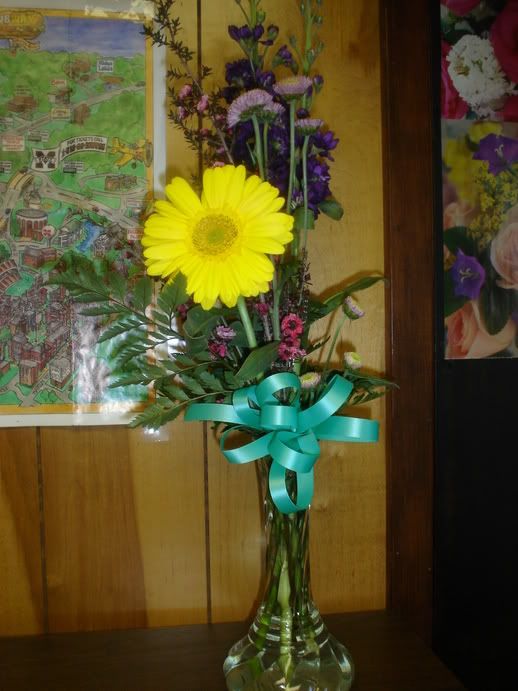 Finally, this morning, I came into work and had a message that there was a "package" for me at the receptionist desk. Well, I was pretty busy, and didn't make it over there until after noon. When I finally picked it up, this is what I found. A small and beautiful flower bouquet from my Best Friend! She said that she wished she could've sent them sooner (when I was in New Mexico), but she wanted me to know that she loves me and has been thinking about and praying for my family! Isn't she the sweetest!